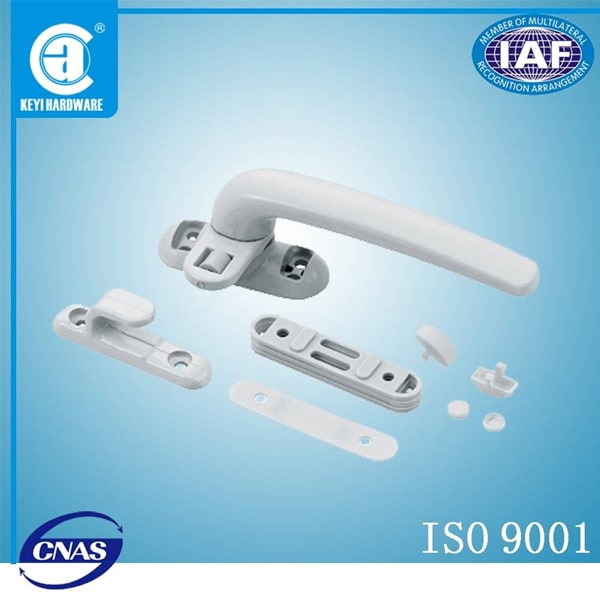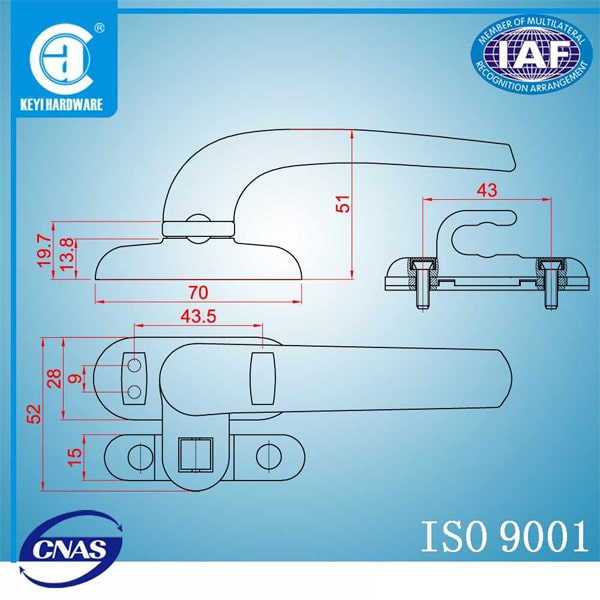 Wholesale Aluminium Metal Accessories Window Handle CW-450
Model: CW-450
Minimum: 1000
Payment: L/C, T/T, D/P, etc.
Origin: Guangdong, China
Brand: KEYI
Product Overview
Handle a lot of material of zinc alloy, copper, aluminum, stainless steel, plastic, wood, ceramics etc. In order to various styles of furniture, shape, color handle is a riot of colours, in different poses and with different expressions. After plating and electrostatic spray paint with handle, wear and corrosion, except when the choice is consistent with the interior decoration style, should also be able to withstand greater tensile force, general handle should be able to withstand more than 6 kilograms of tension.
Lock Installation
1. Cut the installation of paper gauge attached to the appropriate height of the door (rest assured that the center of the hole is about 1 meters from the ground).
2. Open the door, according to the 2 or so, the incline adjustment toward the inclined tongue to close, then the lock into the lock hole with screw fastening.
3. The lock body is inserted into the slit groove, fixing the lock body by screws, and the core is inserted into the lock body and the handle hole before and after the panel set into the square hole side core, two fastening screws into the inner panel (not tighten), the lock core from the door to door through the hole of the lock core use screws to the lock core, the lock core and the lock body fastening, and then tighten the 2 fastening screws on the inner panel.
4. The button box in the nest hole and supporting gusset plate corresponding to the installation frame position chisel, buckle, buckle box, a self tapping screw fastening, should make the telescopic lock tongue.
Product Advantage
1. Solid grip: feel comfortable, ergonomic design, high strength gravity die casting.
2. Silent processing: the details of the process, each corner is to achieve the ultimate, but also your silent world.
3. 8 layers of electroplating: the industry's top technology, chemical stability, corrosion resistance, anti friction. Like new.
4. Gravity Rebirth: the lock body weight up to 0.9KG.
5. Environmental material: different from the market of super alloy, high strength, no rust.
6. Anti lock body: mechanical lock to maximize the fit between the parts precision, anti prizing lock tongue thickening.
CONTACT US


Gudangdong Gaoyi Building Materials Science and Technology Co., Ltd.
We are always providing our customers with reliable products and considerate services.
If you would like to keep touch with us directly, please go to contact us